Our Services: Transforming Your Space with Stellar Bathroom Remodel Services and More
At Parthenon Shower & Bath, we offer a comprehensive range of services to elevate your bathroom remodel to new heights of beauty, functionality, and comfort. With our expertise and attention to detail, we bring your vision to life and create a space that surpasses your expectations. Explore our services below: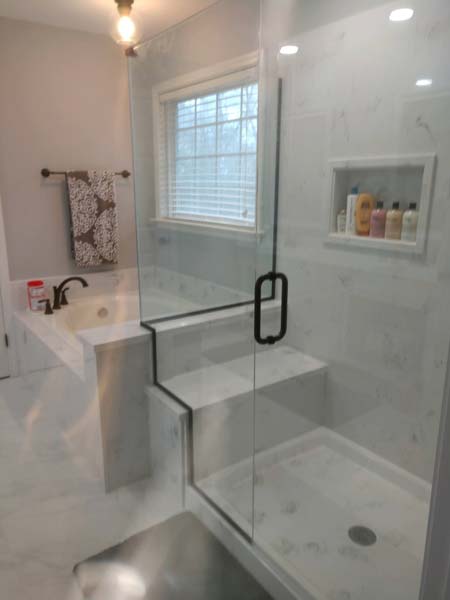 Tub to Shower Conversions:
Maximize space and convenience by converting your existing tub into a stylish and functional shower. Say goodbye to the hassle of climbing in and out of a bathtub.
Give your bathroom a complete makeover with our expert remodeling services. From modern upgrades to classic renovations, we transform your space into a stunning oasis.
Enhance accessibility and safety with our walk-in shower solutions. With low or no barriers, grab bars, and non-slip surfaces, we create a bathing experience that caters to your specific needs.
Perfect for individuals with mobility challenges, our low-entry showers provide easy access and a barrier-free environment without compromising on style or design.
Handicapped-Accessible Showers:
We specialize in creating showers that accommodate individuals with disabilities, ensuring optimal comfort, independence, and safety.
Deep Soaking Tub Installations:
Immerse yourself in luxury with our deep soaking tub installations. Relax and unwind in a bathtub designed for ultimate comfort and tranquility.
Upgrade your outdated or worn-out bathtub with our professional replacement services. Choose from a wide selection of high-quality, stylish options that suit your taste.
Add a touch of elegance and sophistication to your bathroom with our exquisite marble countertops. Experience the timeless beauty and durability of natural stone.
We offer custom shower bases tailored to your unique style and specifications. Create a seamless and stylish foundation for your shower design.
From concept to completion, our team ensures a flawless installation process for your new shower. We handle every detail, delivering a shower that meets your expectations.
Our experts provide seamless bathtub installations, seamlessly integrating your new tub into your existing bathroom layout for a seamless and cohesive look.
Contact Us Today!
At Parthenon Shower & Bath, we take pride in our craftsmanship, attention to detail, and commitment to customer satisfaction. Contact us today at (864) 297-5768 or email us at parthenonmarbleofgreenville@gmail.com to schedule your free bathroom remodel consultation. For more inspiration and updates, visit our Facebook page. Let us elevate your bathroom to the next level of luxury and functionality.