New Construction and Remodels: Bringing Your Dream Bathroom to Life
At Parthenon Shower & Bath, we specialize in new construction and remodels, offering comprehensive solutions to create the bathroom of your dreams. Whether you're building a new home or renovating your existing space, our expert team is here to guide you through the process and deliver outstanding results.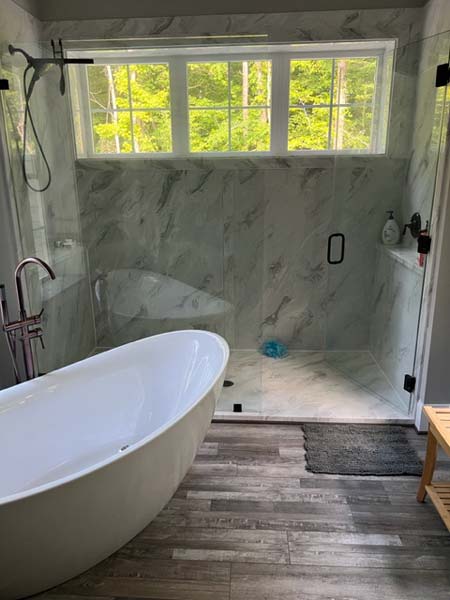 Whether you're looking for a bathtub replacement, a brand-new marble countertop, or custom shower installation, Parthenon is the team for you.
Why Choose New Construction and Remodels with Parthenon Shower & Bath?
Customization and Personalization:
With our new construction and remodel services, we provide endless possibilities for creating a bathroom that reflects your unique style and meets your specific needs. From layout design to fixtures and finishes, we tailor every detail to your preferences.
Expert Design and Planning:
Our experienced team collaborates closely with you to understand your vision and translate it into a functional and aesthetically pleasing bathroom design. We take into account your requirements, budget, and timeline to ensure a seamless construction or remodeling experience.
High-Quality Craftsmanship:
We are committed to delivering excellence in every aspect of our work. Our skilled craftsmen pay meticulous attention to detail, ensuring precision installation, quality materials, and flawless finishes. Your satisfaction is our top priority.
From plumbing to cabinetry, and fixtures, we offer a wide range of services to handle all aspects of your bathroom construction or remodel project. Our team is equipped to tackle projects of any scale or complexity.
If you're remodeling, we take special care to seamlessly integrate your new bathroom with the existing structure and aesthetics of your home. Our goal is to create a cohesive design that enhances the overall appeal and value of your property.
Contact Us Today
Are you ready to embark on your new construction or remodel journey? We can handle it all – from bathtub replacement to marble countertop installation and more. Contact Parthenon Shower & Bath at (864) 297-5768 or email us at parthenonmarbleofgreenville@gmail.com to schedule your free consultation. For design inspiration and updates, visit our Facebook page. Let us bring your dream bathroom to life with our expertise in new construction and remodels.