Tub to Shower Conversions: Maximize Space and Convenience
At Parthenon Shower & Bath, we specialize in tub to shower conversions, offering a seamless solution to transform your bathroom into a more functional and accessible space. Whether you're looking to upgrade your bathroom or improve daily convenience, our tub-to-shower conversions are designed to meet your specific needs.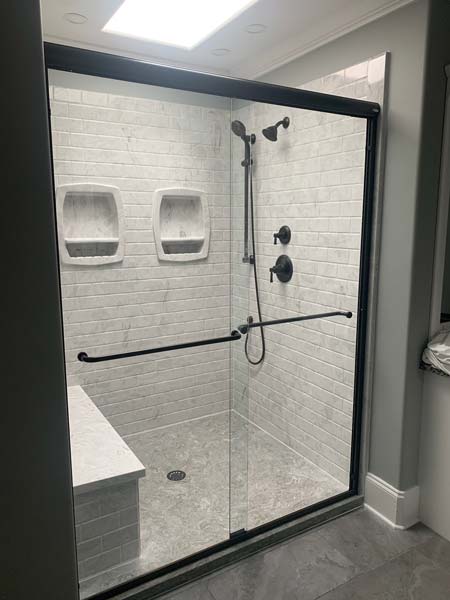 Why Choose Tub to Shower Conversions?
Converting your existing tub into a shower allows you to make the most of your bathroom space. By removing the tub, you gain extra room for other elements such as storage, seating, or a larger shower area.
Convenience and Accessibility:
Stepping in and out of a shower is often easier and safer than navigating a high-sided bathtub. Our tub to shower conversions provide a more accessible bathing experience for individuals of all ages and abilities.
With our wide range of shower designs, fixtures, and materials, you can personalize your new shower to match your unique style and preferences. From sleek and modern to timeless and classic, we have options to suit every taste.
Enhanced Safety Features:
Our tub to shower conversions can incorporate safety features, such as grab bars, slip-resistant flooring, and built-in seating, providing peace of mind and reducing the risk of accidents or falls.
Quick and Efficient Installation:
Our experienced team ensures a smooth and efficient conversion process, minimizing disruption to your daily routine. We work diligently to complete the project in a timely manner without compromising on quality.
Contact Us Today
Are you ready to transform your bathroom with a tub to shower conversion? Contact Parthenon Shower & Bath today at (864) 297-5768 or email us at parthenonmarbleofgreenville@gmail.com to schedule your free consultation. For more inspiration and updates, visit our Facebook page. Let us help you maximize space and convenience with our expert tub to shower conversions.